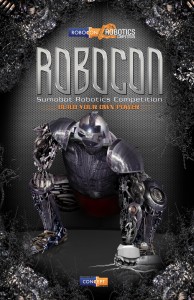 The ROBOCON is a part of the STEMCON – Science, Technology, Engineering , and Math Convention. STEMCON is organized by Concept Schools, a Chicago-based, non-profit, charter management and consulting organization. The mission of the STEMCON is to increase public awareness in science, math and engineering. We believe that every school has the potential to shine in science, math, and engineering; therefore, we encourage every school to share their experiences, talents, and abilities with other schools through this unique platform. ROBOCON is a robotic sumo contest, two autonomous robots attempt to push each other out of a circular arena using mechanisms, cunning, and brute force. We welcome your participation and support in this year's event.
1st Place: Team 2039 HSA Columbus Elementary 2nd Place: Team 2038 Barnesville Middle School 3rd Place: Team 2004 HSA Columbus Middle 4th Place: Team 2013 HSA Columbus Elementary Cooperate Award: Team 2044 HSA Cleveland High Design Award: Team 2011 HSA Youngstown Sportsmanship Award: Team 2015 Indiana Math and Science Academy West
        Robot Specifications: • Robots must be constructed only out of LEGO-manufactured parts. No third-party parts or sensors are allowed. • Use of suction, glue, "sticky wheels," magnets, or other methods of increasing downward force is not allowed. Size and Weight: • Maximum Width: 12 inches • Maximum Length: 12 inches • Maximum Height: No height limit • Maximum Weight: 3 pounds All sumo-bots must comply with the size limitations at the beginning of a round, but can expand beyond them after a round begins. Allowed Parts: • Robots must be constructed out of LEGO manufactured parts. The parts must be unaltered and unmodified. • CPU: NXT or EV3 brick • Sensors: Combination of 4 maximum sensors of any type. (Ex. 2 touch, 2 light sensors; 1 touch, 2 light, 1 ultrasonic sensors) Once the robot is registered, sensors cannot be substituted with a different type of sensor. • Motors: Up to three motors even if EV3 is used • Non-electrical parts: Unrestricted non-electrical parts.
Team Rules:

Only one robot.
Minimum two (2) student team members of any K-12 grade.
Robots cannot be shared among teams
A student cannot be a member of different teams.
Students cannot participate other events in Consef
There is no limit of teams per school.
Maximum of 64 teams will be registered first come first serve basis.

Robot Rules:

Programming/Software: Any programming language may be used, including, but not limited to, RCX Code, NXT code, NQC, Robolab, ROBOTC, and Visual Basic.
Multiple programs on the CPU are allowed. During a match, programs may be switched during the breaks between rounds.
Robots must be started manually.
Robots must operate completely autonomously, acting independently of humans or external host controllers.
Bluetooth must be turned off.

You may download the DOHYO file and get it printed on a glossy vinyl.      
The Tournament:

The team registrations and hardware control will begin at 9:00 am. The first matches will begin at 10:00 am.
Teams who do not register on time and are not present at their match time will be marked as lost/eliminated.
Teams will be divided into groups of 4 teams. Each team will play one match against the other three teams.
Top two teams of each group will continue with the eliminations according to the pre-detirmined brackets.
Some teams may receive "byes" during the first elimination stage if the tournament bracket is not filled.
Eliminations will be played in one game setting. (Three rounds of game; the team which gets two points advances)
Semi-finals and finals will be played in the same manner.
Matches will consist of maximum three (3) rounds. A round is over after two (2) minutes or after one "Win" occurs.
There will be a 90 second break between the rounds to allow some time to fix the broken parts and/or switch programming. During the breaks, robots or programming cannot be modified.
Teams may do any updates to the robot at their pit area only when they are not competing.

The Play:

At the beginning of a match, the robots will be placed parallel on the ring about 5 inches apart and an equal distance from the center of the ring.
Robots will begin their initial movement in opposite directions.
Robots must touch to the white border before it moves any other direction.
When both contestants are ready, the ring judge will signal the match at which time the robots must be manually activated by pressing a button on the CPU.
All robots are required to have a five (5) second start delay.
Players must clear out of the Ring Area once the robots have been activated.
The winner either pushes the opponent out of the ring completely or the opponent leaves the ring on its own. Hanging on the edge does not disqualify the robot.
When any of "major parts" (any one of motors or brick) of one robot falls off the edge and touches the floor or it becomes disabled for any reason, the other robot will be declared winner.
If the judge decides a robot is disabled beyond repair in 90 seconds during a round, the other robot will be declared as the winner of the match.
Two (2) points for "win"
One (1) point for "draw" (at the end of the two (2) minute round and no winner)
Zero (0) for "loss"
If it is determined by the judge that both robots are stuck in an entanglement or deadlock for at least fifteen (15) seconds, the judge will call for a Reset.
If the judge declares a Reset, the clock is stopped, the robots are put back in starting position, and the robots are reactivated and clock restarted.
At the end of the match, the points will be totaled and a winner will be determined.

Judging:

A single judge will oversee each round as well as timing.
In any round, the judge has sole discretion in any dispute. The judge's decision is final.
The judge has the authority to remove a participant at any time. This can be due to harmful violence, disregard for the rules, poor sportsmanship, or any other reason that the judge declares.
Intentional damage to the opponent robot or the robot arena is prohibited. Robotic sumo is a game of pushing, not destruction. Everything from flame-throwers, to sharp objects, to liquids is absolutely and entirely prohibited.
The officials and/or Judges will disqualify any robot whose strategy or operation is considered dangerous.

AWARDS

1st Place — $50 check for each student, medal, and trophy
2nd Place — $30 check for each student, medal, and trophy
3rd Place — $20 check for each student, medal, and trophy
4th Place — $15 check for each student, medal, and trophy

In addition to these standard awards, we will offer a combination of the following awards:

Cooperate Award: Teamwork, Team Spirit and Enthusiasm, trophy
Design Award: Engineering Process, trophy
Sportsmanship Award: Sportsmanship and Professionalism, trophy

http://www.nxtprograms.com/mini_sumo/steps.html http://chowmillersumobots.wordpress.com http://drgraeme.net/DrGraeme-free-NXT-G-tutorials/Ch46/SUMO-G/default.htm http://thenxtstep.blogspot.com/2007/12/new-content-aimed-at-beginners-on-lego_13.html http://goo.gl/zIY5t

REGISTRATIONS ARE CLOSED.